The controversy between Intel computers and AMD computers has been going on for the last few years. We all know that AMD offered some of the best and high-performance processors to the gamers that too with the budget prices, which caused too much trouble for Intel. AMD has now been producing some top-notch processors and excellent specifications, which is the main reason for them to attract gamers from all over the world. You can also find some premium Intel Prebuilt PCs, but if you are looking for great value for your money, AMD can be a great pick!
Most gamers on a budget now opt for AMD computers as they are relatively cheaper than the Intel processors and can offer outstanding performance in the games. So if you are also on a tight budget but want to play all of the latest games without any problems, why not go for a budget prebuilt gaming PC with a great AMD processor?
How to Choose Gaming PC?
Some essential things should be taken care of when buying a prebuilt gaming PC. So always keep those things in mind to get the best deal!
1- Processor: The processor is unquestionably one of the essential things in a gaming PC. It is better to check your prebuilt gaming PC's processor and its specifications to know if it will be a Great and suitable fit for you or not.
2- GPU: If you want to play your games at the highest graphics ever with the craziest details, do not ever forget to check the GPU to support the latest games and what its specifications are along with the model.
3- Motherboard: You would not want your gaming PC not to support an M.2 SSD or higher frequency RAMs, right? Or what if you would have to upgrade later by adding a more powerful processor? Motherboard plays an essential part in all of this, and that is why it is better to check its specifications and features even if you are looking for the best budget gaming motherboard.
4- Size: Motherboards and Cases come in different sizes like ATX, Micro-ATX, Mini-ITX. It is usually better to go with the standard ATX sized case and motherboard to easily support larger sized GPUs and other components. You can take a look at these budget gaming PC cases to get one for you and check how it works.
5- Future insurance: If you are spending a fair amount on PC, you would want it to serve you for the next few years. It would really be a waste of money if your PC would not support upcoming titles. That is why it is better to check all components thoroughly along with RAM, Processor, Motherboard, GPU, and storage to know if it can serve you longer or not.
Custom Built PC vs Pre Built PC?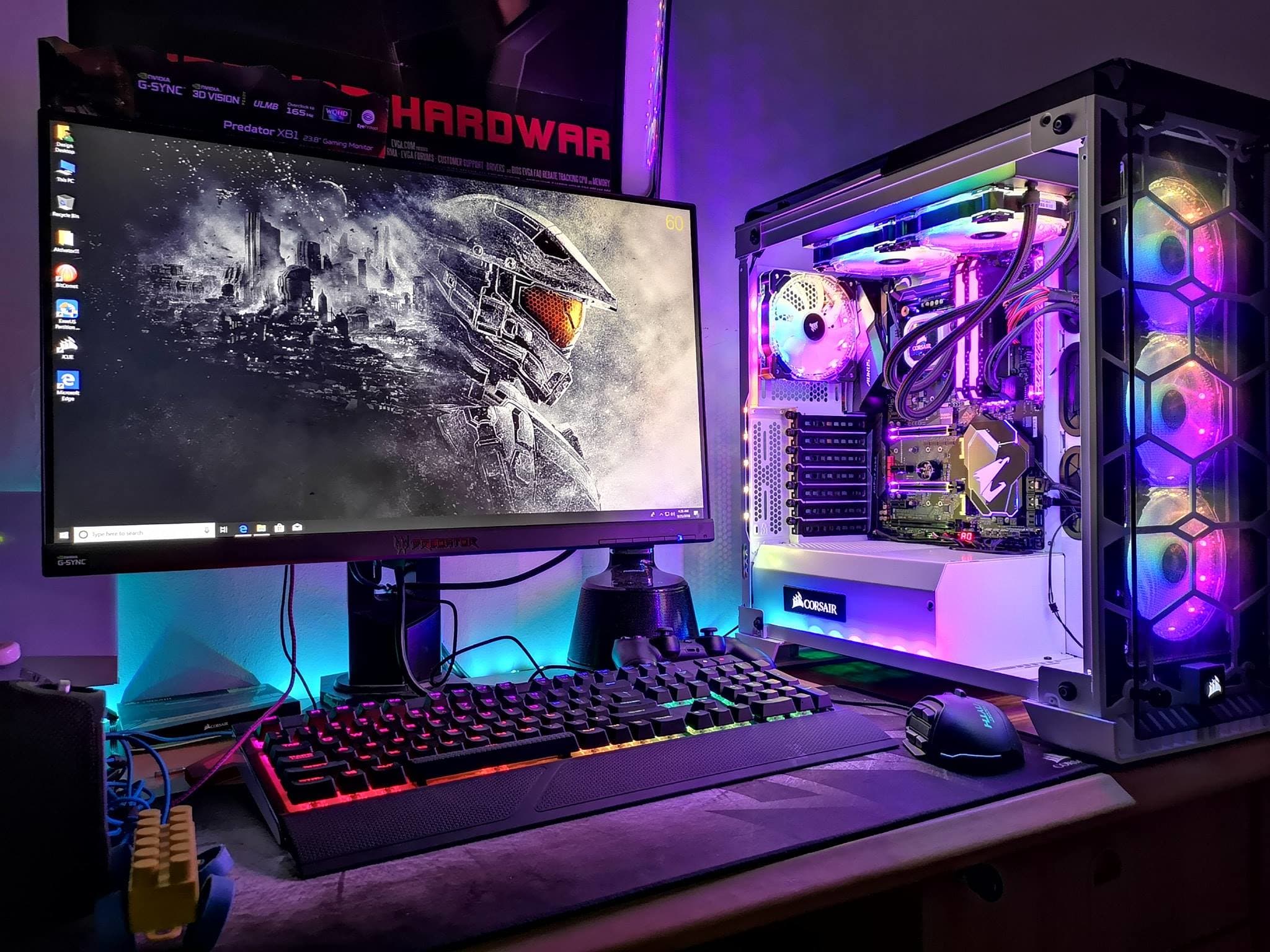 If you don't know how to build a fantastic and great gaming PC, then it is a great idea to go with custom-built PCs. The thing is, you will have to determine the specifications of your preferred PC and will have to check if the Pre Built PC is offering the same to you. The most significant advantage of getting a Pre Built PC is that you don't have to search for different components, and you get each and everything in just a single place. But at the very same time, you might also not get exactly what you want. Most of the time, gamers get "similar" specs to what they wanted, which might be frustrating for us all.
But if you opt for a custom High-end gaming PC build, you have the choice to pick any component you want and pair it with any type of processor or motherboard without any restrictions or hassles.
10 Best Pre Built Gaming PC in 2021
Without wasting a single second (or minute), let's have a look at some of the best Prebuilt gaming PCs that are available as of now!
Highlighted Features
Fast processor
Good Graphics card integrated
DDR4 RAM integrated
Gaming Design
Massie storage
Future-ready
We all have seen Dell's standard PCs with a core I5 processor and integrated graphics in them. But now times have changed! Dell is no longer an average brand that only produces standard office PCs. This Dell Prebuilt gaming PC is undoubtedly one of the bests you can get in 2021. It comes with the AMD Ryzen 7 2700 processor that can also easily beat Intel's Core I7 8th gen processors. Not only that, but this processor is powerful enough to fulfil your gaming and creation needs for the next five years without creating a single hassle.
To make your multi-tasking even better, the brand has integrated 16GB of DDR4 RAM in it. It will make your computer's processing speed even faster and better. The best thing is, they have kept the RAM to 16GB instead of 8GB so that the performance won't be compromised in any way. Now coming to one of the most vital parts, the graphics card!
This PC comes with an AMD Radeon RX 580 4GB integrated into it so that the users can play all of the latest titles with full potential. Most of the gamers might complain about not getting the 8GB variant of the card, but to keep the PC in the budget, Dell has opted to go for the 4GB variant. There are also many ports available so that the users can easily connect their keyboard or mouse. Well, you can also take a brief look at some premium MOBA mouse to pair them with this fascinating gaming PC.
If we talk about the storage, gamers are not provided with any SSD; instead, the PC comes with 1TB HDD to store all of your games. The overall look of the PC is also pretty decent as the PC comes with Dell branded case. There is an actual and great effect of blue light on the front, and it offers a pretty cool gaming look when turned on. It can be a tremendous prebuilt PC under $2000 if you are willing to get your hands on an All-in-One machine.
Pros
AMD 7 2nd gen processor
16GB RAM
GDDR5 GPU
Fast HDD included
Great looks
It comes with the latest OS
Multiple ports available
Cons
No SSD included
4GB GPU instead of 8GB variant
Minimal airflow in the case
Highlighted Features
8-Cores processor
Equipped with an SSD
Great frequency RAMs
RTX GPU with an excellent memory
RGB integrated
Spacious case
Good airflow
Gaming design
If you are looking and searching for an absolute beast of a gaming PC, then here is your best pick! This PC has some of the top-notch components you can find around, and it will run all of the AAA titles on 100+ FPS at 1080p with ease. This Skytech Gaming PC comes with one of the best Ryzen processors, that is Ryzen 7 2700X. This processor has eight cores that can easily handle any program that is ever made for a PC. So it does not really matter if you want a PC for gaming or editing. It will handle them. If we talk about the motherboard, there is a B450 motherboard integrated that is also considered one of the premium best budget motherboard for Ryzen processors.
The best thing that Skytech has done here is that they have offered 1TB SSD instead of HDD to make the PC even faster. If you want more space to store your files, you can simply buy another HDD or SSD as per your preferences. It also comes with DDR4 3200MHz 16GB RAM that can make your multi-tasking experience even better and crazier.
If we talk about the most powerful component of this PC, it unquestionably is the GPU. There is an RTX 2070 super integrated into it that can offer RTX experience in-games. You can also game on 4k monitors with ease with this GPU. But it would help if you had some of the best gaming monitors to use the full potential of this GPU.
Other than that, the overall airflow of this Skytech gaming desktop is also pretty good as it comes with four extra fans. These fans ensure that your processor and GPU get ample airflow all the time, and that too with RGB. You can get all of the things along with looks, specs, features, and design in just a single place with this PC.
Pros
2ND Gen Ryzen Processor
RTX 2070 Super with 8GB memory
3000MHz DDR4 RAMs for multi-tasking
4x ARGB Fans
Fast SSD integrated
Gold-certified PSU
Cons
It comes with an AMD prism cooler instead of a custom one
PSU wattage could be higher to be on the safe side
Highlighted Features
Ryzen 3 Processor
DDR4 RAM integrated
Price-to-performance GPU
Different ports available
Compact design
RGB integrated
Good airflow
Tempered glass integrated
This PC might seem small in size, but its specifications are better than most of the ones available in the market. The iBUYPOWER Gaming PC arrives with an AMD Ryzen 3 3100 processor, which is pretty good for budget gaming PCs. If you are not willing to spend a higher amount, this PC can be an excellent fit for your needs on a budget. This processor's max turbo frequency is 3.9GHz, which is very good for this processor and can come in handy while playing games or running heavy applications.
It is also integrated with 8GB DDR4 RAM to ease up things a little. This much RAM is undoubtedly not the best, but it can still offer excellent performance in most games. The reason for not going higher than that is to keep the build in the budget; otherwise, it would seem costly.
As for the graphics card, there is an AMD RX 550 2GB integrated into it that might not offer excellent performance in AAA titles, but it can run those on lower settings. If you are looking for a great PC that can play games even on lower settings, you can go for it without hesitation. But do remember that it can cause problems in some AAA titles.
There are many different ports available on the PC that the users can use to connect their peripherals. There are also some ports on the front to connect your headset or other similar things. If you are looking for some great headsets, take a look at these budget gaming headsets that can make your gaming experience better. Besides that, another thing that makes this a tremendous prebuilt PC under $1000 is its looks! There is a total of three RGB fans integrated into it, along with tempered glass, so that you can showcase your components.
Pros
Good processor for medium gaming
8GB DDR4 RAM for fast processing
WiFi ready
Windows 10 installed
Great design
Best airflow
SSD included
Cons
GPU could be better
Fans are not ARGB
Highlighted Features
Equipped with one of the most excellent processors
Equipped with one of the most incredible graphics cards
Stylish design
Fast DDR4 RAM integrated
Custom cooler installed
Great looks
Corsair is a trendy brand in the gaming world, and we all know it for unique gaming peripherals like mouse and headphones. Well, you can feast your eyes with some premium wireless gaming headsets that you can use with this PC. Besides that, this PC has undoubtedly got some great specifications to offer you the best possible experience.
The first notable thing about this Corsair Vengeance Gaming PC is, of course, its processors. First, tell you that you will have to spend some serious amount of money to get your hands on this machine. It is one of the most powerful machines you can ever find in the whole world, and it will run every single game on maxed-out settings. Corsair has integrated this PC with Ryzen 7 5800X processor, making it the best Prebuilt PC for under $5000.
Not only that, this PC comes with Nvidia RTX 3070 so that your processor won't bottleneck in any type of process or during the games. The combination of these things will offer you the best possible gaming experience from comfort. As for the comfort, take a look at these most comfortable and great gaming chairs to use while gaming! Other than that, there are 16 gigs of DDR4 RAM in this PC. These RAMs are not the normal RAMs as they are equipped with RGB Tech and can perform well with AMD processors.
To keep your processor cool and safe, there is an H100i RGB Pro XT Cooler included that can control the temperature of your powerful CPU. The design of this PC is also very decent and as per the preferences of most gamers. There are three ARGB fans integrated on the front and one fan on the PC's back. You can sync all of these fans and opt for any colour you want. To make things even better, there is tempered glass on the side so that you can show off your components to anyone you want.
Pros
AMD 7 5800X Processor
RTX Enabled GPU
RGB RAM
RGB Fans
Tempered Glass
High-performance custom cooler
Premium Design
Cons
RAM could be 32GB as per seeing the other specs
Low space
Highlighted Features
Great processor
Good GPU
WiFi integrated
Multiple types of ports available
Gaming design
Sync RGB
A significant amount of RAM and storage
If you call yourself a true or real gamer and don't know Rog Strix, just don't call yourself that. Asus has done a fantastic job to popularize Rog Strix throughout, and gamers from all nations love its products with all their hearts. In the same manner, this Asus Rog Strix Prebuilt Desktop is here to feast on your gaming needs with its fascinating specifications.
The best thing is, it can be easily afforded and does not cost that much like the other prebuilt PCs. Getting on the point, it is equipped with the AMD Ryzen 7 3700X processor to offer the best possible performance to the gamers in this specific budget. There is also a B450 motherboard that can also help you upgrade your components later as per your preferences.
To match up the performance, Asus has placed a GTX 1660TI in this Ryzen 7 prebuilt PC so that you can play all of your games at high settings. You will indeed not feel any type of lag or stutter even in the latest AAA titles because of the powerful processor and graphics unit. Besides that, there is 16GB of DDR4 RAM that comes with a 3200MHz frequency.
Aside from that, the whole PC is synced with the Asus Aura Sync so that you can also enjoy the RGB in your preferred colours. Despite having a low quantity of fans, this PC's ventilation is pretty decent and can still keep your PC cool and optimized. The brand has also provided different features like WiFi in this PC so that you can use them conveniently while gaming. But it is also necessary to have one of the best gaming routers so that you can get low pings while playing games.
Pros
One of the best AMD processors
Latest gen GTX 1660TI
16GB 3200MHz RAM
512GB SSD available
Great looks
RGB integrated
Great cooling
Best ventilation
Cons
Low storage because of no HDD integration
A lower number of case fans
Highlighted Features
Ryzen 5 processor integrated
GDDR6 GPU provided
WiFi integrated
Latest USB Ports available
DDR4 RAM
SSD Integrated
Gaming design
Good ventilation
Side tempered glass
We previously discussed a SkyTech PC, but this one is different and offers some unique features and specifications for its price. This PC offers a pretty good deal for its price. You will probably not play AAA titles at maxed-out settings, but it will still offer good performance in those games. As for the specifications, it is integrated with an AMD Ryzen 5 2600 processor, which comes with six cores and has a max frequency of 3.9GHz.
It comes with an A320M Motherboard, which is the right choice for Ryzen 5 Processor. Other than that, it also comes with a 500GB SSD to make your PC even faster. You will not have to wait for your PC to boot up or wait for your games to load any time. This one is surely not the best prebuilt PC under $500, but if you can increase your budget, it is really a great pick!
The best thing is, there is an Nvidia GTX 1660 6GB in there to support all of the latest games. Because of the latest technology, your GPU will perform relatively better in most games and remain calm and silent. Instead of 16GB, the brand decided to keep 8GB RAM in this model to adjust the budget. You might face specific problems while multi-tasking, but it is still a good deal at this price.
Other than that, there are 4x USB 3.1 ports, 2x USB 2.0 ports, WiFi antenna, and other essential features integrated into this great AMD Ryzen 5 PC, so you won't have to buy anything separately. But if you are not satisfied with its built-in antenna, you can opt for any best WiFi gaming cards to play your games without hassles. This PC's overall design is also outstanding, but it is not that shiny or colourful. There are two fans on the front and one on the back to keep your PC ventilated, which also offers a tremendous RGB effect.
Pros
Ryzen 5 2600 processor
Nvidia GTX 1660
512GB SSD for fastest speeds
RGB Integrated
Good airflow
Licensed Windows 10 installed
3x ring fans
Compact design
Cons
RAM should at least be 16GB
Lack of storage
Highlighted Features
Six core processor
Great GPU in a budget
DDR4 RAM
Great looks
The right quantity of ports available
RGB Design
Here is another iBUYPOWER gaming desktop that can fulfill your gaming needs quickly and efficiently. It can be a good fit for the gamers who have a limited budget, and they are finding a prebuilt PC under $1000. This package comes with the 6-cores AMD Ryzen 5 3600 processor, which is pretty popular nowadays for budget gamers.
Despite being a budget processor, this processor can easily handle all of the latest titles and applications without hanging or throttling. The brand has also offered 8GB of DDR4 RAM on this PC so that you can also play games without stuttering issues. It might seem low to some gamers; that is why there is an extra slot available on the motherboard to upgrade your RAM.
To match the performance, iBUYPOWER has placed AMD Radeon RX 5500XT 4GB graphics unit in this PC to offer excellent visual performance in the games. This graphics card is enough to handle the latest titles. You might have to lower down the settings, but it is a pretty fair deal in this budget. This AMD Ryzen 5 Desktop can also be a great fit if you are more into editing and rendering.
To make things even faster, a 240GB SSD is integrated into it, which you can use to install the operating system. For the games, you might have to use HDD or get an SSD to make them efficient. There are also many different USB ports available on the front of the PC, which most users use to plug in their headphones or gaming controllers. If you don't have one, check out these PC Game controllers to make your gaming experience far better than before.
Pros
3rd gen Ryzen Processor
GDDR6 GPU
RGB Fan integrated
Custom cooler
Good airflow
RGB casing
SSD included
Highlighted Features
Unique design
Premium airflow
Best processor
RTX enabled GPU
DDR4 RAM
A significant amount of NVMe installed
RGB looks
Different ports available
If you are looking for something unique that you have not seen before, Thermaltake has something for you. This Thermaltake prebuilt PC has a unique design as its casing is different from the usual ones we see every day.
It comes with AMD Ryzen 5 3600X processor to offer the best performance in the games. Not only that, Thermaltake has offered liquid cooling for the processor so that you can enjoy a silent gaming experience without worrying about your processor's temperature. If we talk about the motherboard, there is an X-570 Micro-ATX Motherboard, which is also considered the best motherboard for Ryzen 5 3600X.
One of the best things here is that Thermaltake has integrated 16GB of DDR4 RAM instead of 8GB. The RAM comes with a 3200MHz frequency, which performs a lot better than the standard ones. Now, coming towards the real part, there is a high-performance Nvidia RTX 2060 Super with 8GB memory to offer you the best performance in games with RTX enabled.
You can play any game you want without any lag, and you will not have to lose in your favourite games due to lag. But you should also have the needed skills to succeed. If you want to increase your skills, get your hands on these sweat-proof gaming mice and play your hearts out.
As for the storage, there is Gen 5 NVMe 1TB installed in this PC, which you can use for anything you want. There is also a Thermaltake tough power Gold certified 650 Watt PSU to ensure that your components remain safe for a longer duration. It is undoubtedly the best-prebuilt PC under $2000 that you can get because of its unique case design. Despite the unique case design, many fans are integrated to control the airflow and keep your components cool.
Pros
AMD Ryzen 5 3600X processor
Latest gen Nvidia RTX 2060S
High speed 16GB DDR4 RAM
1TB NVMe storage
Different fans integrated for airflow
Best RGB effects
Unique case design
Water-cooled processor
Windows 10 installed
Cons
RAM frequency could be higher
Complicated customization
Highlighted Features
Premium looks
Stylish design
One of the best processors integrated
DDR4 RAM integrated
NVMe installed
Tempered glass
Good airflow
Powerful PSU
HP Omen is pretty popular among Laptop users, and now they have also arrived in desktop gaming too! It offers some great specifications and perks to the gamers that they can utilize while playing high-end games. This remarkable and powerful AMD 7 prebuilt PC is integrated with the AMD Ryzen 7 3700X processor, an Eight-Core beast.
It can enhance your gaming experience in multiple ways and can boost up the performances without any doubt. There are two Hyper X Fury RAMs integrated into it, making the total memory of 16GB. You can also upgrade it to 32GB in the future as per your preferences and likings.
As for the graphics unit, it could have been better. An AMD Radeon RX 5500XT placed in this computer might create some problems pairing with this beast of a processor. But still, it can offer outstanding visual performance in the games if we keep the bottleneck aside. This computer's storage is also lightning fast as Omen has offered 512GB of NVMe storage in it. Your PC will boot within seconds without a single delay and will also help you load your games quickly.
If we talk about this PC's overall looks and design, you all might know that Omen offers a pretty cool look on its devices. The same scenario goes for this PC, too, as it has got a premium blackish look in it. There is tempered glass installed on the side so that you can experience the perks of having a great gaming PC.
There is a signature logo of Omen on the front, which increases its overall look even more. You can enjoy all of your games and connect all your necessary peripherals through the front. If you have a budget wireless gaming keyboard or mouse, you can also connect its adapter on the front and enjoy wireless connectivity without any issues.
Pros
Ryzen 7 3rd gen processor
High-speed Hyper X 16GB RAM
512GB NVMe
WiFi and Bluetooth integrated
Blackish design
Luxurious looks
VR Ready
RGB lighting
Cons
Not that powerful GPU
Low RGB effects
Highlighted Features
Best performance
Great processor
High performing and RTX enabled GPU
3200MHz RAM
RGB integrated
Fans integrated
Great design
Unique looks
SSD provided
Here we are again with another top-class computer that can efficiently run all of the latest AAA titles on the highest possible settings. Skytech has integrated this PC with AMD Ryzen 5 3600 processor with six cores and 12 threads. Its base frequency is 3.6GHz, and its highest frequency is about 4200GHz.
You will not lag due to your AMD Ryzen 5 processor because of its incredible power and features. Aside from that, it is a tremendous prebuilt PC under $3000 for its specifications. If we talk about the RAM, the brand has placed 16GB DDR4 RAM with 3000MHz.
The most influential component of this PC is, of course, the graphics card. Skytech has offered an Nvidia RTX 3070 on this PC, which is the main reason it is so expensive. But it will surely be worth your money because of the whole combo. Not only that, there is a 1TB NVMe SSD available in this package so that you can boot your windows and load your applications or games within seconds. You will certainly not have to wait for a more extended period due to the SSD installation.
There are 3 RGB fans integrated into this best Ryzen 5 PC to get the best airflow for their components. Your components will remain calm and relaxed all the time because of these fans' integration. As for the looks goes, this PC has seriously got some crazy looks. There is an excellent combination of RGB in it, making this PC look even smarter and better.
You can show off your skills in different games with this PC and get yourself known in the gaming community. If you are willing to do so, then you would need one of the best FPS mice for pro gamers to enhance your skills furthermore.
Pros
3rd Gen AMD Ryzen 5 processor
RTX 3070 installed
16GB DDR4 RAM
1TB NVMe SSD
3X RGB Fans
Great airflow
Spacious case
Gaming design
Different ports available
WiFi integrated
Cons
The cost could be lower
RAM should be 32GB as per the other specs
Confused about which one to pick? Let me help!
Anyone can get confused after checking out that great variety of premium gaming PCs. So let me help you out to pick the one that I would pick if I were you.
So, I would go for the Thermaltake LCGS L20 Gaming PC because of its excellent specifications on a lavish budget.
Top Pick
Thermaltake LCGS L20 Gaming PC
10 Reasons why I picked this specific PC!
6 Cores Processor
RTX Enabled GPU
16GB RAM
Gen 4 NVMe SSD Installed
Different RGB fans available
Great airflow
Unique Design
Premium looks
Water cooling system
80+ Gold certified PSU
Most Frequently Asked Questions
Q1- What is a prebuilt PC?
A- Prebuilt PC can be defined as a PC that comes with all the necessary components required to run. Users don't have to add anything else to use them efficiently.
Q2- What is the best-prebuilt PC Company?
A- The companies like Dell, Thermaltake, MSI, Rog, and HP Omen undoubtedly stands higher than the other ones. But as long as you are getting a warranty for your PC, there is no reason not to go for it.
Q4- Is a prebuilt PC better than custom?
A- No! You can either go for a prebuilt PC or get custom components; the performance will remain the same as long as you have picked the exact components as the prebuilt PC.
Q5- Can you modify a prebuilt PC?
A- Without a doubt! Almost all brands (including those mentioned above) allow the users to modify their prebuilt PCs without any problems.
Q6- Are prebuilt gaming PCs worth it?
A- Of course, they can save a lot of your time, and you won't have to find different components everywhere. Instead, you get the whole PC from just one place.
If you want to save your time and energy, it is best to go for a good prebuilt PC. The best you can do is pick the one with the right specifications that can offer you the best performance in your budget. It will surely and unquestionably be worth it in the end, and you will be able to play the games you want.