Computer PC Case Buying Guide
Buying a PC Case might seem simple, but it isn't. Most people just get the PC Case for their components without considering some points, which makes it impossible to integrate some components in future. So it is always better to choose the PC Case that can serve you for a longer run and you can easily incorporate what you want without any compromise. If you are getting a PC Case for a standard PC having Mid-Range specs, you can easily decide a PC Case for those components as it would not need much modification, cooling solutions, space requirements, and other things. But if you are going to pick one of the best PC cases for your Gaming Components or High-End Editing Components, then you will need a good PC Case offering the features you want without any hassles.
When buying a PC Case for Gaming or Editing, you would want your Case to look fresher and smarter than ever before, to get the one with similar features, you will have to find the best PC Cases available having All-in-One features in the best price range. So let's start the guide and know how you can get the best PC Case for your components.
Supported formats of the Motherboards for the PC Case:
You might know that motherboards and PC Cases both come in different sizes with different dimensions. For this particular reason, you will have to choose the best PC Case for your Components that can easily fit in the motherboard of your preferred size. Most of the Gamers and Users get confused in the different types of variants and sizes of motherboards, and it can be tricky too for the new users in this industry. Still, it is not that hard to choose the Case according to your motherboard, and I will tell you how to do so. First have a look at the different motherboards form factors that are commonly used for Gaming, Editing, or Standard PCs:
ATX Motherboards
Micro-ATX Motherboards
Mini-ITX Motherboards
Nano-ITX Motherboards
So these are the types of the motherboard which you will mostly find in the Gaming or Standard PCs and most probably, you might have also gotten any one of these for your PC. If you are still confused between the types and functions of different motherboards, you can have a look at the Ultimate Motherboard Buying Guide which will make it easier to understand everything. So the real question that pops up here is that in which PC Case these motherboards will easily fit in? Well, it is straightforward! Here are the three types of PC Cases or PC case sizes that you can get for your components:
Full Tower
Mid Tower
Mini ITX
1- Full Tower PC Cases:
If you are going for the Full Tower PC Case, you can fit in every ATX Motherboard in it, making it easy for the users. Not only that, but Full Tower PC Cases also allows the users to place Micro and Mini motherboards too without any difficulties. So if you have a decent budget, get this type of PC Case without any second thought.
2- Mid Tower PC Cases:
If you are a little short on some bucks but still want to get most out of your PC, then Mid Tower PC Case can be a great fit for you. Mid Tower PC Cases can easily support almost all ATX Motherboards except the few ones. Aside from the ATX Motherboards, you can also easily fit in the Micro and Mini Motherboards with ease, and it will offer you the same purpose as the Full Tower PC Case except for a few disadvantages that we will discuss later.
3- Mini ITX PC Cases:
Mini ITX PC Cases are generally used in offices and in homes where space is less. You will only be able to integrate Mini ITX or Nano ITX Motherboards in this Case which will not allow you to perform High-End Gaming and Editing because of the availability of features and ports. So only choose this PC Case when you are confident that you will only light tasks in your PC.
What are some features to check before buying a PC Case?
Well, there are some features of every component related to Computers and Tech, so you will have to check out for some features of one of the unique PC cases that you are going to buy. Please note that you will be able to get many types of PC Cases having different qualities, capabilities, and compatibilities, so choose the one with all the facts in your hands so that you won't have to face the consequences later. Check out for these essential features before getting your hands on any PC Case:
1- Case Build Quality: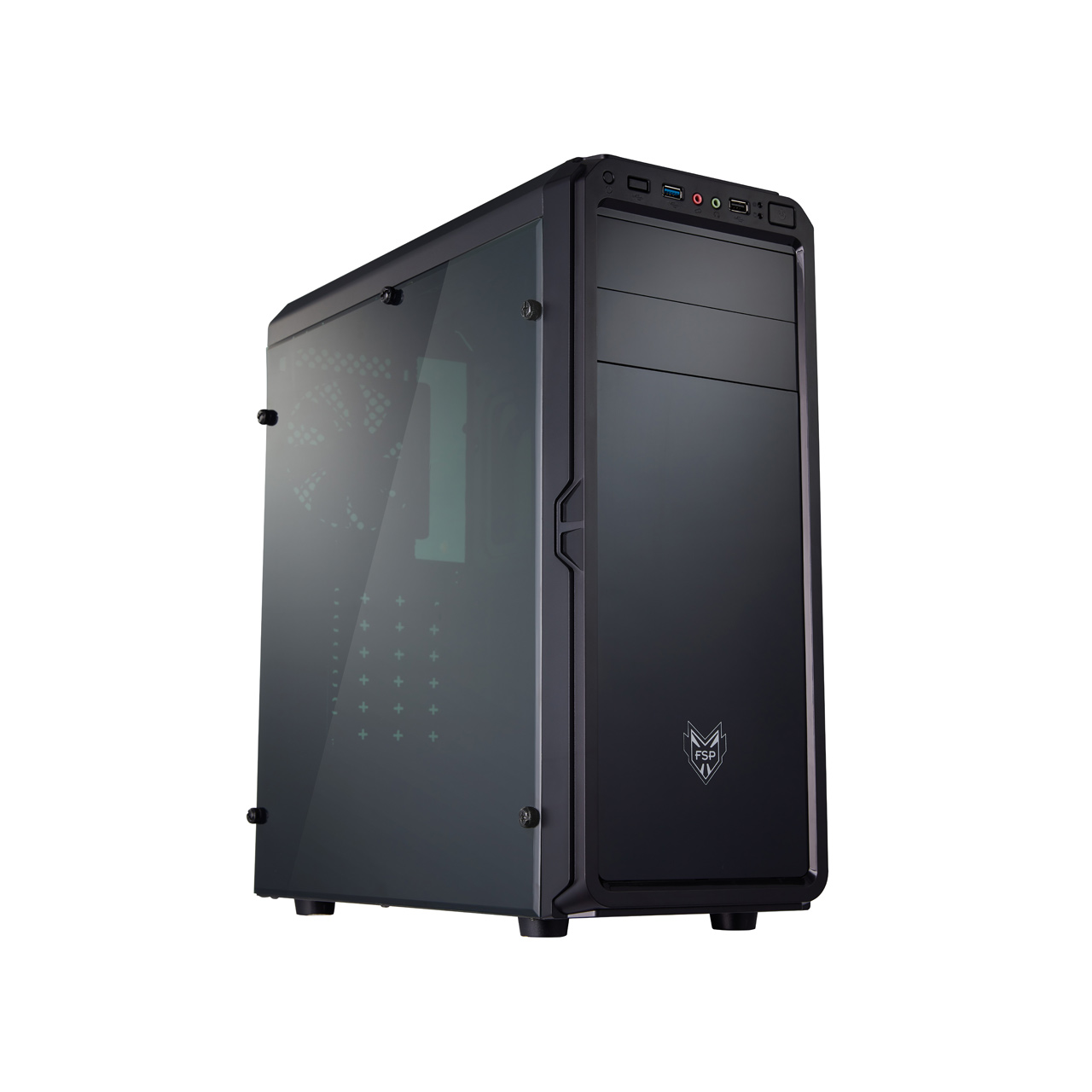 The build quality of any component is essential, and it is more critical for the PC Cases as the Case is going to hold all the other parts itself. Just check out for your PC Case if it is manufactured by a reputable brand like:
Antec
Corsair
Coolermaster
Thermaltake
And some others
These brands use premium quality material, including Steel, Aluminium, and Plastic. These three materials are most commonly used for the manufacturing of the PC Cases and that is why these cases are stated as unique pc cases around the globe, and you might even find some PC Cases having all these three materials in it, which makes it perfectly durable. So if you don't want your PC Case to damage quickly in any way, whether from the corners, sides, supporting feet, actual body, or front panel, then do the proper research on its build quality and check if it is manufactured through the materials mentioned above.
2- PC Case Side Panel:
Most of the modern PC Cases have Tempered Glass Side Panel which indeed offers a Premium Look to overall PC, and it also enables the RGB light from the components to pass through it and make it perfect Gaming combination. PC Cases with Tempered Glass panel are not cheaper, and you will not find them at a low price. So if you have a reasonable budget, you can surely go for the Tempered Glass Panel PC Case.
But do you know its consequences? Well, most of the Gamers don't s they think it would be one of the most unique pc cases they can ever find, so let me clue you in. Tempered Glass Side Panels are sensitive, and they can break into Million pieces with just a little mishandling. You might have seen videos and posts on Social Media of some pals doing an unboxing of Cases, and the Tempered Glass just breaks even while unboxing it. So now you might have understood how sensitive these side panels are. So if you have pets, naughty children, or you are terrible at handling the delicate stuff, then I would never recommend you to go for the PC Case having Tempered Glass side panel as it will cost you a lot of money day in and day out.
You can just get a simply built side panel for your Case which will not allow the glowing RGB to pop out, but at least your Case will be safe at all times. You can always go for the Tempered Glass panel if you are comfortable with it as it is modern, unique, and stylish in all ways. So always choose the one according to your preferences.
3- Expandability:
Do you know what you might need in the future? Well, you don't. Expandability can help you solve out your future needs for your PC. If your PC Case has excellent scalability, you will be able to integrate the next components in your PC with ease. If your PC Case has outstanding expandability, it will have some extra slots and space to incorporate more storage devices like HDD and SSD in the future.
Expandability also includes the extra space for DVD ROMs and Floppy disks, but as we are way far ahead from that era, it is not essential to check for those slots. But you can always check out for the extra fan slots so that the overflow in your PC can work with great potential and your components would maintain decent temperature.
4- Airflow:
Airflow is one of the most (or the most) critical parts which need to be checked when buying the best airflow PC case. If your PC would not have good airflow, you might face some serious troubles with your components in the future. You might have seen some new Gaming PC Cases having 5 or 6 fans integrated into it, well, some of the Gamers might find it disturbing. Still, the airflow is directly proportional to the number of fans integrated into your PC Case.
So do check out the no of fans that can be placed in your intended PC Case so that you can create a good airflow in your PC which will make sure to manage the temperature of your components. Not only that, but case fans can also make your PC look better in many ways as most of the Case Fans are now RGB and provide a premium look to the Case. So if you are a die-hard RGB Fan, you can integrate the case fans to get the 2-in-1 benefits, i.e. the Premium Look and Good Airflow.
5- Dust Filters:
Dust can be the greatest enemy of your components, and it can drastically reduce the life span of your components in a short time. It is vital to filter out the dust particles when making a good airflow for your PC. So how can you do that? It is pretty simple. You will just have to integrate the Magnetic Dust Filters along with your case fans or on the upper side and both sides so that all the dust particles can be filtered out with ease.
But please note that it is totally up to your PC Case whether it allows you to integrate a dust filter along with it because of the space management. So don't ever forget to check out for the dust filter space in your PC case if you don't want your precious components to die very soon.
6- Cable Management:
If you are a person who literally loves to keep everything neat and tidy, then you would want your PC in the same way. But it is not possible without cable management. We all have seen the PCs having no cable management, and the most common reason behind this is the PC Case. Modern PC Case offers its users with extra space on the backside of it which means the PC Case can be opened from both sides.
From one side, users can integrate their components, from the other side; users can manage the wires of Power Supply and other parts in the easiest way possible. But this feature is mostly available in the new PC Cases and you might not find it in the older ones. So check out for the cable management option in the Case before getting your hands on it.
Frequently Asked Questions:
Most Frequently Asked Questions
Q- How do I know what PC Case to buy according to my components?
A- You will just have to check out your motherboard type size, and then you can easily pick any PC Case in accordance with it.
Q- Are bigger Case fans better?
A- Well, it is just a myth, and both the fans, whether smaller or bigger, offer the same airflow. You might find a little difference in the revolutions per minute of both, but the difference is neglectable.
Q- Which brand cases are suitable for airflow?
A- There are many brands offering premium cases to users. You can check out the cases of Thermaltake, Corsair, or Coolermaster for proper airflow.
Q- How many case fans should I integrate into my PC for standard airflow?
A- There should be at least 3 case fans integrated into your PC to get standard airflow. But you can always go for more fans for better airflow.
Q- I have watched some tutorials on YouTube, can I build my PC Case?
A- You can indeed build a PC Case for your components, but it will not work as efficiently as a branded one can work. You will surely miss out some essential things to integrate, which will cause problems for you later.
As I have stated, PC Case is critical as all of your components are relying on the PC Case. So before buying any PC Case, first have a bright look at your other components and decide which Case would be the best fit for you. This way, you will get the best Case for your need in accordance with your preferences, and you will not have to face the consequences later. Also, don't spend too much on a single PC Case if your budget is short, you can always go for a decent PC case rather than spending too much, just check out for the essential features, and you are good to go.